ENTERTAINER / FOUNDER / CEO / PRODUCER / 
Jason Garfield has been featured in Time Magazine, performed by special request for the cast of the Fox show "House" by Hugh Laurie personally, performed for corporate events for BMW, Holiday Inn, and Novo Nordisk (just to name a few), auditioned for AGT at the personal request of Simon Cowell, has won fourteen world championship competitions and set a world record.
Now on a quest to bring the sport of juggling to the Olympics, Jason's performance features his life work in a 100% original, hilarious, and compelling presentation emphasizing work ethic, tenacity, dedication and perspective.
Jason Garfield WILL turn your world upside down with 100% original comedy so fantastically GOOD it's currently on the juggling black market. That, combined with unprecedented juggling skills contained within nonstop hilarity from start to finish guarantees his audiences an experience they will never forget.
---
#BALLS@JASONGARFIELD.COM 
FAN SUBMISSIONS
"Fantastic performance! You are extraordinarily talented, super skilled, wildly entertaining, highly inappropriate, and HILARIOUS!!!" 
---
  |   "BRILLIANT!" – TIME Magazine   | 
---
---
Watch On the CW's "The BIG Stage"
---
"Jason is a world class juggler and juggling instructor and would make a great addition to our TODSTWD day and picnic. We look forward to having you Jason!"
"You were the BEST ACT of the night!"
"Jason Garfield provides a masterful show...It is extremely hard to get college students to GO to an event on Friday evening...even harder to get college students to go to a juggling event...even harder to college students to go and PAY for a juggling event...but his performance that night sold every ticket in the auditorium."
"Your onstage antics were hilarious and entertaining, and your juggling talent is truly amazing."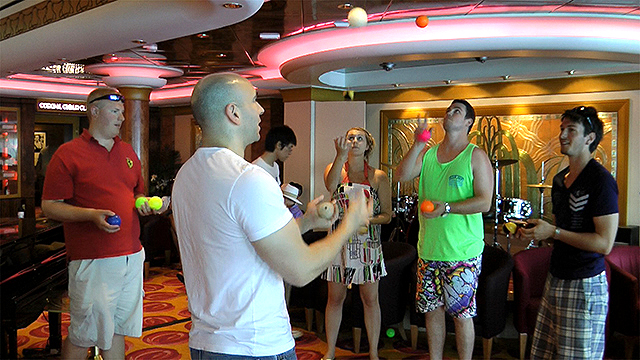 :: TELEVISION ::
– Burger King Commercial
– Cirque Du Soleil Solstrom
– CW's "The Big Stage"
– Dateline NBC
– ESPN
– ESPN 2
– McEnroe
– Soapnet
:: OTHER ::
Wrap party for the cast and crew of the Fox show "House, M.D."
:: CORPORATE ::
– BMW
– Boeing
– Coral Reef Communications
– IBM
– Holiday Inn National Convention
– Microsoft
– Midway Neurological
:: CORPORATE ::
– Medtronic Physio Control
– Mercy Regional Medical Center
– Novo Nordisk
– Nucor Steel
– PRIDE Industries
– Sysco Foods
– Zappos
:: COLLEGES ::
– Middlebury College
– Stanford University
– University of New Mexico
:: STAGE ::
– Lance Burton Monte Carlo Casino Las Vegas, NV
– The Jason Garfield Show Golden Phoenix Hotel & Casino Reno, NV
– V The Ultimate Variety Show Aladdin Hotel & Casino Las Vegas, NV
:: CRUISE SHIPS ::
– Celebrity
– Disney
– Holland America
– Norwegian
– Princess
– Royal Caribbean
:: AWARDS ::
– 2004 & 2006 WJF Gold Medalist
– 2001 Guinness World Record
– 2000 IJA People's Choice Award
– 1988, 1990, 1998, 2000, 2002 IJA Gold Medalist